6th Annual Kid's Camp
June 21 – 25,  9 a.m. to Noon
Schedule and Registration Info
Summer Celebration 2010 will be held Monday through Friday, June 21-25. The camp runs from 9 a.m. until noon each day and is open to kids ages 6-10. Children who turn 6 by the end of August or are 10 years of age at the time of sign-up are welcome to attend. Register your child today!
About Summer Celebration
Summer Celebration is packed with great teaching, funny skits, exciting games and much more – all designed to help your children learn from the Bible how godly character can make a difference in their lives. Whether it's Douglas Doogleberry's hilarious antics, the musings of Squeever the puppet, or learning new dance moves with the Tree House Gang, there's something here for every kid.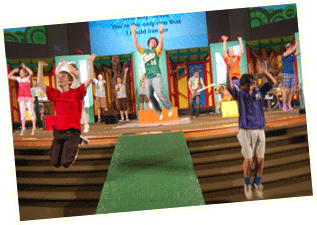 Don't just take our word for it. Here's a quick story from one camper's mom:
"My daughter woke up Wednesday morning and wasn't feeling the greatest. I told her she could take a break from camp. She immediately responded, 'Oh no Mom, today they are talking about forgiveness and I have two people I need to forgive so I need to go!' What incredible encouragement to me!!! Thank you Jesus for this camp and every person who is working to make it happen!"
This year's curriculum celebrates finding the treasure of God. The book of Proverbs reveals a picture of seeking after hidden treasure more valuable than gold, silver or precious jewels. This treasure is discovered by pursuing wisdom, cultivating humility, demonstrating honesty, giving generously and living diligently.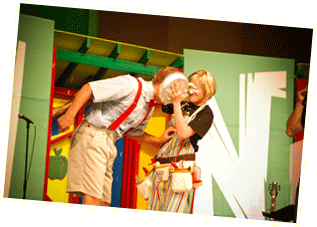 Our program will focus on a single character trait each day where we will inspire campers from Scripture to seek after and demonstrate godliness:
Day 1: Wisdom
Day 2: Humility
Day 3: Honesty
Day 4: Generosity
Day 5: Diligence
Our games played each day create a context to test and reveal this godly character in the life of the campers. Each day, camp volunteers will nominate children for awards based on their demonstration of the trait of the day. Stories of these moments are shared throughout the week, further inspiring the kids to grow. We want to celebrate and honor what God honors. Summer Celebration continues to be this unique context for calling children to godly character while pointing them to their need for Jesus Christ. We hope your children will join us this year!
Covenant Life Church
Sr Pastor Joshua Harris
7501 Muncaster Mill Rd
Gaithersburg, MD 20877
301-869-2800
[mappress]
Event dates and/or times are subject to change. Events are also subject to cancellation. Check with the event coordinator/promoter before making travel arrangements or before heading out to any event. Morning Church Announcements is not the promoter of events listed and is not responsible for the accuracy of event information or event refunds.
Related posts: